REVIK WINE Co. - INAUGURAL RELEASE!
You could read every email, read every article, every blog post… you could come visit the Napa Valley every year (heck, a few times a year) and still, you'd be missing something. We know. We live here, and our main directive is to be in the know. And even still, we experience the flush of excitement when we learn about a treasured new wine project. "How did we not know about this?" we asked ourselves just the other day… never ones to keep a juicy secret to ourselves, we must divulge: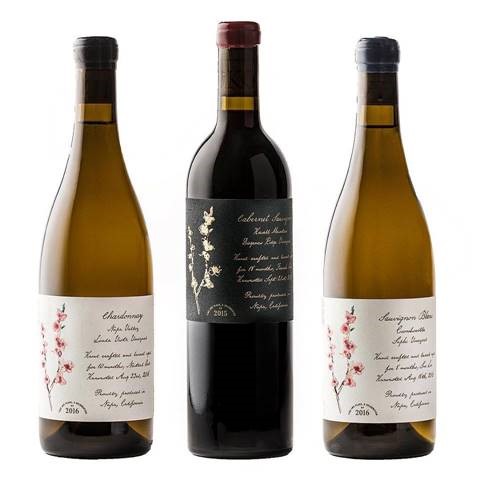 Phil Holbrook and Danni Hill are a beautiful young husband and wife team, both Napa Valley natives, and both passionate about making great wines. For Phil, it's clearly in his blood. The most compelling thing for me about Phil's deep family roots here in the valley is the beautiful variation of experiences to which this exposed him...Phil worked harvest at Arnot-Roberts.alongside one of his cousins, Nathan Roberts, making cool climate Cabernet Sauvignon. Trousseau and Syrah; he worked another harvest at RAEN alongside two other cousins Carlo and Dante Mondavi, whose far west Sonoma Coast Pinot Noirs are graceful and lithe; cleaning tanks and tugging hoses, he also worked at the powerhouse mainstay Robert Modavi Winery, located in the heart of the farmed Beckstoffer To Kalon Vineyard in Oakville. Yes, you might have pieced it together, Phil's grandmother was the late Margrit Mondavi, and her influence on this project is multifaceted. Phil and Danni were honored to share one of her watercolors on the label. Margrit and her daughter, longtime Mondavi Winery Chef, Annie Roberts, are some of the most legendary dinner party hostesses in the new world. Let's not forget: wine is at it's most sublime when paired with food. This we believe and the simple fact informs every decision Danni and Phil make with REVIK.
REVIK, Saphi Vineyard, Sauvignon Blanc, Coombsville 2016 $29
13% ABV. From Phil's parents' home vineyard in coombsville, the first word I wrote was "WOW."WOW! Ripping, tense and shimmering with fresh acidity, this is so refreshingly gorgeous. Briny, floral and bright as a light, this far cry from the norm of high alcohol, high octane Napa Valley SBs. No, this is for purists who love lean and nimble whites. Only 64 cases.
REVIK, Linda Vista Vineyard, Chardonnay, Oak Knoll District 2016 $37
12% ABV, Phil and Danni were able to secure a tiny amount of Chardonnay from Steve Matthiason's Linda Vista Vineyard. Lean, with tinges of green fig, this is a Champagne lovers Chardonnay. Native yeast fermented. no lees stirring, this is a nervy and taut Chardonnay which features a silken core, permitting sensory pleasure from the nose to the mouthfeel to the palate. No toast, no butter. Only 140 cases.
REVIK, Diogenes Ridge Vineyard, Cabernet Sauvignon, Howell Mountain 2015 $70
This inaugural vintage Cabernet is herbal and fresh with soft tannins, and a thrilling example of the delicate side of Howell Mountain Cabernet Sauvignon. These days, lots of folks like to talk about making cabernet like the folks did back in the 60's and 70's. This wine truly embodies that movement, with clean, red fruit, bright sage and pink peppercorns, and a conifer/ sandalwood cigar box component. 15% whole-cluster, aged 18 months in 50% new oak. If you embrace Cabernet's herbal side with enthusiasm, then you will be so completely in LOVE with this stunning wine. Ideal for folks who prefer their reds to showcase savory elements. and to pair with tonight's dinner...or, you know, dinner in about 6-9 years.
We'll be sharing the Chardonnay with winter Dungeness Crab, the Sauvignon Blanc with homemade pasta, and while a bottle or two of the Cabernet will grace my dinner table this year (with a bone-in pork roast, likely) I'll mainly hide away the rest to benefit from a gentle cellaring.
Congratulations, Danni and Phil! It's a pleasure to have these wines here at ACME.
---