who we are
Karen Williams
Proprietor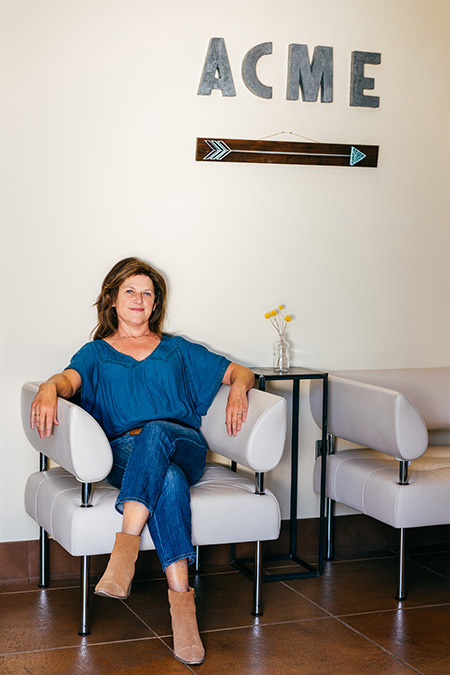 Karen's first introduction to the world of wine began while she was visiting her parents in Missouri one summer while finishing up college at the University of Georgia. They took a day trip to a quaint winery in what seemed like the middle of nowhere, and were offered tastes of different wines to be enjoyed with an assortment of artisan cheese and fresh bread while overlooking a pastoral view from tiered decks off the tasting room. This indelible image and unique experience instilled the vision of one day owning a similar place of her own. After years of extensively reading wine books and taking wine classes while living in Breckenridge, Colorado, she realized these educational acts simply weren't enough to take her closer to her dream of being surrounded by vines, wines and other wine enthusiasts like herself. She dropped everything and moved to St. Helena in the heart of the Napa Valley and took a position as a cellar rat with a boutique winery. For two years she completely immersed herself in the production side of wine. But, with a whole world of wine out there, she began looking into other aspects of the wine industry that best suited her growing interests. As fate would have it, a new wine bar opened and Karen was instrumental in transforming it into a thriving place for locals and tourists alike promoting flights of wine to excite and challenge the palates of even the biggest wine aficionados. Spearheading a wine bar at this local hot spot and developing a program that launched new wines from the Napa Valley became the most satisfying portion of her career path. Next step? To open a truly inimitable wine shop. Enter ACME Fine Wines, a gallery-style wine showroom, off the beaten path and down a country lane in St. Helena. The business plan? To specialize in discovering and launching the finest of the inaugural release, Napa Valley brands while keeping a secondary focus on the lauded wines of the world. And, to best showcase the principles of excellent customer service, clients and wine club members receive access to these micro-production wines, often on an exclusive basis, in the very first vintage and then on an allocation level for each vintage thereafter; it is like being on multiple preferred mailing lists, managed entirely by ACME. Next time you are in St. Helena, stop in, say hello, and discover the hidden gems for yourself.
Angela Stem
Director of Sales & Private Clients
Angela Stem began her love for food & wine in the small resort town of Eureka Springs, Arkansas at the age of seventeen. Working under the tutelage of Chef Linda Hagar at her restaurant, The Cottage Inn, she was able to learn and appreciate the art of food and wine and from there stemmed a desire to travel the world further exploring her passion and love for the culinary arts and increasing her knowledge of the vast and mysterious world of wine. Almost twenty years ago, she traveled to Napa Valley for the first time and immediately found a connection to the people, the land, and the way of life that is California wine country.
In addition to working as the General Manager of Bordino's restaurant in Fayetteville, Arkansas and General Manager of Ghidotti's and Wahso, part of the award winning Bill White Restaurant Group in Park City, Utah, she also worked as a wine consultant and manager for the Springdale Liquor Association, a conglomerate of liquor and wine stores in northwest Arkansas including the largest wine store in the state. While there, she also wrote monthly wine articles for two different magazines, Celebrate and Citiscapes, and achieved her Certified Specialist of Wine certification from the Society of Wine Educators.
Now, twenty years after coming to California wine country for the first time, Angela is fulfilling her dream of living and working in the Napa Valley, one of the happiest places on the planet. After spending three years working as a sommelier for PRESS Restaurant in St. Helena, which is known for having the world's largest Napa Valley wine list dating back to the 1950's, she brought her knowledge of Napa Valley wines and beyond to ACME in 2015. She completed her Wine & Spirit Education Trust Advanced Level 3 Course with Distinction and is currently working through the WSET Diploma Program. She looks forward to sharing her passion for wine, both near and far, through ACME Fine Wines. When not trotting through the valley trying to find her next, new favorite Napa wine or having her head down in her studies, you can find Angela cooking and entertaining for friends or playing in her garden.
angela@acmefinewines.com
Liz Murray
Wine Club Director
Liz first discovered her love of food and wine when she was living and working in North Carolina. Having studied textile design at UC Davis, she traveled to the remote hills of North Carolina to work at the esteemed Penland School of Crafts. There, she managed three textile studios and hosted both instructors and students from all over the world. In the evenings, she worked part time at one of the only restaurants in the sleepy mountain town she had made home. This particular restaurant, called Knife and Fork, was truly one of a kind. Every morning, farmers would drop off bins of produce and the chef would make up a menu which changed every day. Liz was blown away by how much creativity came out of that kitchen, and after two years of burning the candle at both ends, decided to leave the arts in order to pursue a career in food and wine.

After many years away, Liz wanted to move back to her home state of California. She was looking for a community that would offer her great exposure to the culinary arts as well as some of the slower aspects of country living that she had grown to love during her time away. Napa Valley fit the bill. Figuring she had nothing to lose, Liz applied to the Restaurant at Meadowood. If you're going to learn, you may as well learn from the best, right? Much to her surprise, she got the job, and spent three years working her way through many positions and soaking up everything she could. Her favorite part about working at such a high level was being able to make something so challenging look completely effortless. For Liz, this is true hospitality.
At the end of the day, it's relationships and community that matter most to Liz. So when an opportunity to work at ACME was presented, she was thrilled at the idea of taking the skills that she honed at Meadowood and sharing them with the people who make Napa Valley their home. She is our newest member, having joined the team in April 2019. Her goal at ACME is to really tune into the rich community of winemakers and hospitality professionals, and learn how to best represent the projects that they are so passionate about.
When Liz isn't at ACME, you can find her hiking at Skyline, dining at her favorite haunts with friends, or at home in her studio sewing a new summer dress.
liz@acmefinewines.com
Katie O'Connor
Wine Club Fulfillment & Logistics
Katie began her journey in hospitality at the age of 16 while working as a hostess in a restaurant. After graduating high school, she moved from Colorado to Maryland where she worked at a handful of restaurants focused on Asian-cuisine and soon discovered an interest in the acclaimed show Iron Chef, and more specifically felt inspired by Chef Morimoto's craft. On a whim, a friend suggested she move to Napa, California ~ a place she had never been, and sure enough, she took the leap and accepted a job at Morimoto in Napa Valley, and was quickly introduced to the world of fine wine and dining.
She only looked back once. After being in Napa for two years and experiencing the loss of her father, she returned to Colorado to be near her sister. While she enjoyed being close to family, she realized how much she truly loved Napa and missed being immersed in wine.
When she arrived back in wine country after only being gone one year, she decided to step away from restaurants and dove head first into the wine world. Then, 2020 came along and the stars aligned as ACME came into her life. She could not be happier to now call ACME "home". When she is not at the shop, you can find Katie loving on her two Maltese-Shih Tzus, playing board games or cooking…..all of which she will be enjoying with a glass of wine in hand!
katie@acmefinewines.com
Raul Toscano
Executive Assistant
Raul first developed his love of wine through countless conversations with his dad around the dinner table. Born in Modesto but raised in Napa, wine has always seemed to be his destined path with the Gallo Family being in Modesto and Napa being…well Napa. A graduate of New Technology High School, he was on a path to study law, but soon realized that he wasn't passionate about it. He took some time off from school to reflect on what he was passionate about and while working at Hudson Greens & Goods in the Oxbow Market, he befriended the one and only Helen Keplinger. In 2019, after realizing that he wanted to pursue something in the wine industry, Raul asked Helen for an internship at her winery. In that moment, they both knew that this internship was meant to be. From vineyard visits to barrel sampling, each and every day taught him something new that would help further his career in the wine industry. Upon completion of his internship, he learned that ACME was hiring and applied immediately to join the team. As the youngest member on the team, the path that lies ahead will be long, yet rewarding knowing he is surrounded by some of the most knowledgeable and incredible people to teach him the way.
When not at ACME, you can usually find him hiking, eating delicious food with his friends, or reading a good book from Napa Bookmine!
raul@acmefinewines.com
Lauren Mullen
Fulfillment & Logistics Supervisor
Born & raised in Calistoga, Lauren surprisingly was introduced to wine a bit later in life. Lauren's professional background over the past 10 years, has primarily been in client support at a winery-based DTC software company, supporting many brands in their day-to-day successes. She only recently made the transition to the winery setting, which began at Heitz Cellar, where she fell in love with Martha's Vineyard. Lauren's eyes, but really her palate and senses, opened to the "grape unknown" of wine thereafter. She thrives behind the scenes working all things logistics to help her team shine. She's elated to be a part of the ACME team, where she'll really begin to learn about wine in many new ways while leading the Fulfillment & Logistics team. Outside of ACME, it is every moment spent with her teenage daughters, family & friends that fulfill her the most.

lmullen@acmefinewines.com
Ben McClure
Hospitality & Client Relations
Ben arrived in California from his native Florida nine years ago to pursue his passion for wine and hospitality. Ben first fell in love with wine while studying abroad in the south of France where his host family made their own wine in small batches for friends and family. After finishing his undergraduate degrees in French and International Relations from the University of Florida, Ben moved to New York City to enroll in a master's program in Humanities at NYU. While putting himself through school, Ben worked in hospitality at the Hotel Gansevoort in the trendy Meatpacking District, often recommending his favorite wines to the guests and celebrities that frequented the property. Upon completing his degree, Ben returned home to Florida to become a French professor at Flagler College, a small liberal arts school in St. Augustine. On the side, he loved working in a boutique wine shop and tasting room.
That is when he decided to combine his interests of teaching, wine, and hospitality by moving to California Wine Country. For many, it is a pilgrimage of sorts. Ben likes to say, "If you want to be an actor on the silver screen, you move to Hollywood. To pursue your dream in wine, you come to the Napa Valley". For nine years, Ben held a variety of positions with the E&J Gallo Winery at their luxury properties both in Napa and throughout California. He began his career in the tasting room at the historic Louis M. Martini Winery in St. Helena and then served as Hospitality Supervisor- additionally responsible for sister wineries William Hill Estate in Napa and J Vineyards in Healdsburg. He later became Brand Ambassador for Talbott Vineyards, the iconic producer of Chardonnay and Pinot Noir in Monterey, before managing the California Brandy House- a new boutique spirits tasting room in downtown Napa. Ben is a Certified Specialist of Wine and a Certified Specialist of Spirits. In his spare time, Ben loves watching Florida Gators college football, gardening, raising chickens, hiking, traveling, and cooking meals to pair with amazing wines. His rule of thumb on food and wine pairing? "Any wine with food is better than no wine with food!"
ben@acmefinewines.com
---